I suffer with extreme pain in the lower back and left knee and have tried several different therapies to correct this, nothing seems to last. I've had a one to one consultation with Eileen who helped me become more aware of my body and a couple of yoga therapy sessions with her and I have already noticed great improvement in my flexibility and a reduction in pain. I would highly recommend Eileen's yoga therapy classes for anyone in a similar situation to me. Thank you Eileen
🙏
Ever since college, I've carried stress in my muscles. Since the pandemic, the tenseness in my muscles has even further increased.

As often suggested for stress, I immersed myself in various strenuous, large yoga classes. Unfortunately, without enough time to devote to each participating yogi, I was not correctly moving through the poses and I found myself actually doing more harm than good by pushing my body. Only after taking Eileen's class did I understand the benefits of correctly and deeply focusing on the movements.

In just one class, Eileen completely corrected my postures and I was able to experience the intense benefits of restorative yoga. She gave all of her attention to ensuring I was comfortable in the poses and getting the best results possible. I left with a greater understanding of restorative yoga and even practices I can do on my own-this time without pushing my body past it's comfort zone!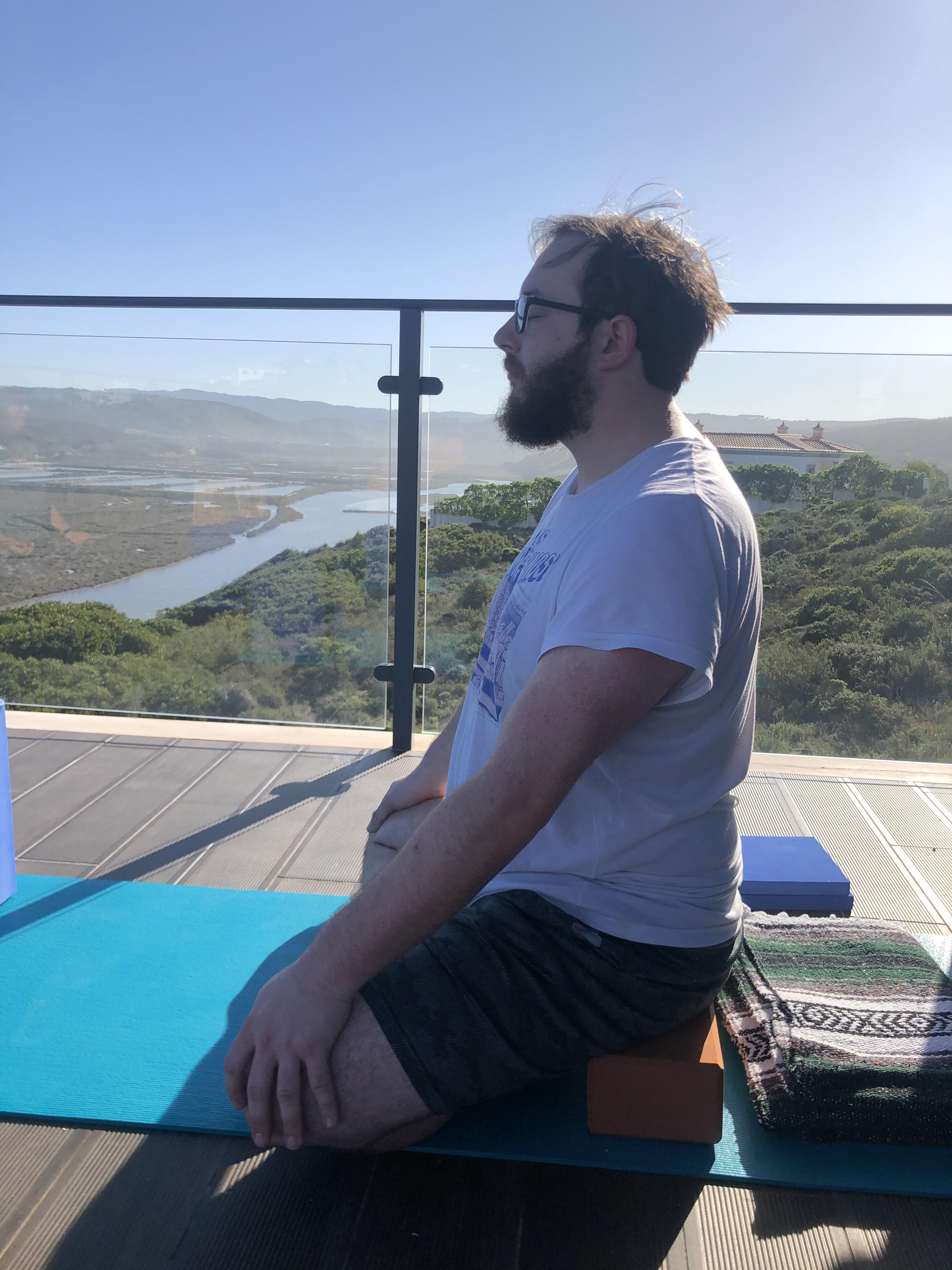 I used to have a bad time doing yoga and thought that I just wasn't cut out for it until I tried a lesson with Eileen.  Eileen is a great instructor who helped ease me into the physicality at a pace I was comfortable with.  And the location/view just can't be beat. Highly recommended.
​​​​​​​
Quite possibly the best Yoga class of my life. I should say experience because it was so much more than just a typical class. Eileen taught me the true purpose of yoga and the immense benefits it has when properly executed. Thanks to her teaching, I now practice at home - different poses every day to strengthen my back and muscles, and remind myself that I am safe. Cannot wait to return to Beyond Wellness!
I love to practice yoga at Beyond Wellness Aljezur. Eileen is amazing, gives everyone the time and space to make the most of the practice, always guiding wisely. I love everything about Beyond Wellness, the view, the mantras, the bowls and the signature lavender pillows 💜
I love yoga but my teenage daughters do not. Until now that is. A chance encounter with a couple at O'Ze led to a recommendation for Beyond Wellness. Eileen, as well as being an excellent yoga teacher, is a Professor of Biochemistry and Neuroscience.. she was able to explain to my daughters the actual physiological and neurological benefits of the practice. So much more powerful than my explanations of why the practice works for me. Combined with the truly stunning setting, a relaxed but yet fun atmosphere and my daughters were convinced. My youngest daughter who really struggles with her mental health said after our session that she definitely intends to explore yoga as a coping strategy. My eldest daughter is quite self conscious but was completely at ease. We are booked in again for next week… Thank you Eileen!
I was on holidays in Aljezur and was just looking for a place to do some yoga. I went for it and had an amazing experience with Eileen, who was very empathetic (I am in a healing journey for about 2 years now) and extremely knowledgeable of yoga and of the whole nervous system and how body and mind interact. I booked a private session with her to do Yoga nidra and it was amazing too. I highly recommend her! Thank you so much <3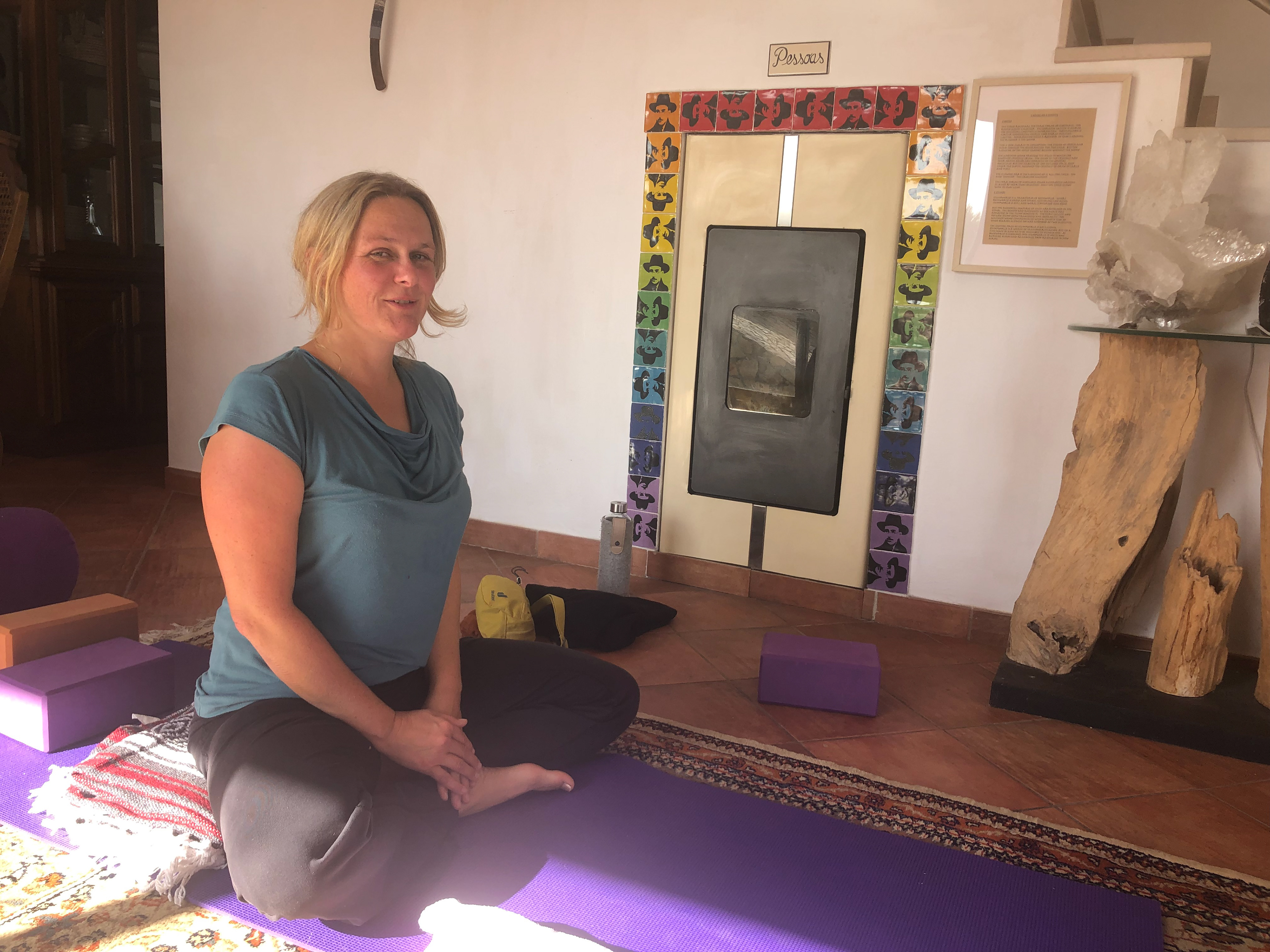 This place really has a nice and welcoming atmosphere, regardless of just dropping in for only one lesson or joining the class for a longer time. The location seems to be made for doing yoga. There are stunning views over the river on the terrace and you can feel the sun and the wind. Here you don't have to imagine to be on a nice and peaceful spot  while you`re meditating, you are right there. Eileen considers everybody's needs very thoughtfully. During class she gives different options for all kind of levels and makes sure eveybody is comfortable. The long Yoga nidra meditation is what I liked best.
I have been to Eileen's classes a few times now, but this is because as Eileen arrived to Aljezur I was moving to another country.  I really enjoyed the yoga therapy class because all the yoga I had tried here in Aljezur didn't seem to make room for  different levels in mobility.  I struggle with knee and wrist issues amongst other things, many yoga positions rely on the wrists and knees,  Eileen always adapted the poses with her great depth of knowledge,  so I could feel comfortable and get the best out of them.  When I moved, I would have liked to continue online with Eileen however my life seemed not to permit in this time.  Recently I returned to Portugal and immediately went to do a class @beyondwellnessaljezur.  The location is second to none and once again Eileen was able to give each member of the class adaptations of a pose so that all levels of ability and mobility could benefit.  I am deeply grateful that I found Eileen and  I believe that at the point of writing this she is one of only 2 Yoga Therapy Practitioners in Portugal, I thoroughly recommend her classes to everyone, but particularly if you have struggled in the past with yoga and are keen to have a good practice.  Thank you Eileen
​​​​​​​